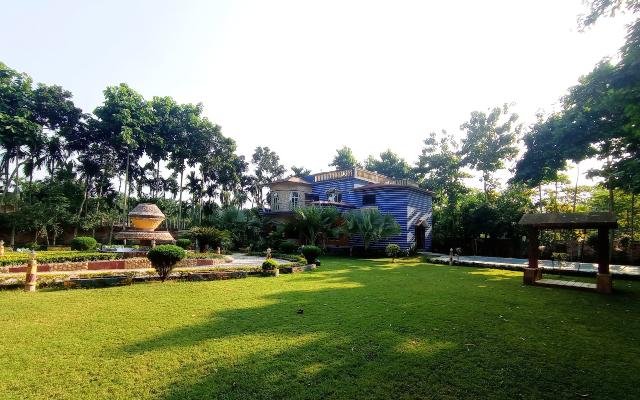 Winters are around the corner and picnic season is also here. It is the right time when we dug around for ideal places for taking sunbaths in the winter Sun. Bagan Bari in Barasat Badu Madhyamgram is one such ideal picnic spot with affordable charges. It is located near Kolkata.
What Is Bagan Bari famous for?
The Bagan Bari is one of the best spots for parties, picnics, and any kind of celebration with friends and folks. The serene ambiance of the place is just too good and so private that you will not feel any interruption or disturbance in the long run. The place is easily affordable at a much pocket-friendly budget.
Can 60 members together fit in the Bagan bari for a picnic or party?
In this Bagan Bari, a group of 50-60 members together can easily fit in and enjoy to their heart's content. The entire place gives a picturesque view and the feel of a rural village all around. You can see lots of trees and vegetables being grown inside the Bagan bari. Apart from this, visitors take the pleasure of seeing the pisciculturBadue of this place. The small pool is filled with fish of all species.
What Are The Arrangements That Pulls In Visitors Here?
Open Space: In this Bagan Bari, there are places where you will be able to spot areas where you can cook for your group picnic. There are places where visitors can organize short games to enjoy until the food gets ready.
Separate Toilets & Rooms: There are rooms out in the garden where there are restrooms for men and women with separate accommodations for bathrooms. The shades of the trees give a peaceful and cool atmosphere.
Kitchen Shed & Water Supply: There is a kitchen shed in the garden. The water supply for cooking is provided in the package. There is a room on the ground floor which is counted within the package. There is a rooftop but it is not put up for promotion or any kind of picnic.
Lobby facilities: In this house, there are 3-4 bedrooms with fully furnished bathrooms. The area is completely cleaned and charges are also affordable. There are toilets, a lobby, a swimming pool, and an open terrace for more exposure to the ambiance.
What Are The Expenses For Booking The Bagan Bari?
The entire place can be booked with an affordable budget of Rs. 4000/- to Rs 5000/-. This includes rest room, a big picnic spot as well as the space for cooking and so on.
If you prefer to book a catering service for your cooking at the picnic, then you can do so. Hence, the Bagan bari in Madhyamgram is an ideal spot for a day outing with groups.
The Bagan Bari sprawls over 22 acres of land. The Bagan is beautifully maintained by the authority. It takes just 19 km to drive from Kolkata Airport crossing.
Why is The Other Name For Bagan Bari?
This Bagan Bari is also popularly known as Bhebechilam Bagan Bari. The place is surrounded by exotic flowers and fruit trees. Visitors will get tons of natural opportunities for photography along with plenty of open space for kids to play around.
Suppose you can pay a little more, you will be able to bring in a music system to enjoy the moments. Campfires are also perfect to complete the perfect bonfire party.
How to reach Bagan Bari outing, Barasat?
Barasat Bagan Bari is just a distance of 40 to 50 minutes drives from the Northern part of Kolkata. It is about 30 km from the heart of the city. Starting from Santospur crossing, you will need to drive towards NH-12. The next crossing is 7-8 Km away from Barasat Dak Bungalow More. This is an ideal picnic spot for a Day outing destination near Kolkata within 100 Km.
What are the activities that people can enjoy here?
This place at Bagan Bari is an ideal spot for marriage and film shooting. Apart from these, you can also enjoy the following activities-
Bonfire.
Bar BQ.
Outdoor games (especially badminton).
Picnic.
Parties.
Get-togethers.
What is the booking time for The Bagan Bari?
The Bagan bari can be booked from 6 AM to 6 PM. The charges are levied for these hours of stay.
What is the pocket pinch for rentals at Bagan bari?
For rental of the venues-
35+ pax: Rs. 14000/-.
50+ pax: Rs. 15500/-.
70+ pax: Rs. 17500/-.
Besides this, food, decorator items like Tables, Chairs, Umbrellas, generator power backup, and music systems are provided at extra cost. The swimming pool is not accessible unless it is booked with some extra charges.
Here Are The Contact Details:
Bagan Bari Badu Madhyamgram
Call: 9804552897/9836374752/9830011715
(Booking is done over the phone)
What is the nearest highway to reach Bagan Bari?
The nearest highway that visitors can take to reach Bagan bari is NH 12.
What is the nearest airport to Bagan Bari?
The nearest airport to Bagan bari is Netaji Subhas Chandra Bose Airport which is at a distance of 40 km.
Can I book a car rental service to reach Bagan bari in Kolkata?
Yes, you can book the car rental service towards Bagan bari in Kolkata. There are free parking facilities available here. Pets are also allowed here.
Other places of Attraction At Barasat near Bagan bari-
Sun City Mall.
Dakshineshwar temple.
Adapeeth Dham.
Eco Park City.
Mother's Wax Museum.
Nicco park.
Diamond Plaza.
Biswa Bangla Gate.
Final Words
It is time to break from the cacophony of city life and enjoy some time at Bagan Bari. Located just 40 km from the city, the place is a perfect destination for a picnic. It can take a stroll in the nearby places by engaging in a majestic place in Bagan Bari.