Do you know the importance of the railway reservation form?
If not, then this article will let you know the benefits Indian Railways provide for its citizens who choose to commute by train. Railway reservation form can be used for both bookings as well as canceling your reservations of seat berth in trains. On cancellation of reservations, Indian Railways refund your payment either through cash on the cash counter or through an online banking transaction. Apart from this, Indian Railways hamper citizens to fill out railway reservation forms in Hindi and English, so that there won't be any difficulty in filling reservation forms.
Even Indian Railways is running a corporate portal Indian Railways Catering and Tourism Corporation (IRCTC), which helps citizens to fill railway reservation forms through online mode. In this online portal, you need to fill in all your details apart from filling in your boarding and deboarding train stations along with a date.
Getting back to the traditional form of filling railway reservation form I .e., by going yourself to the railway station to fill the form. But here is what you need to follow while filling out the reservation form for railways.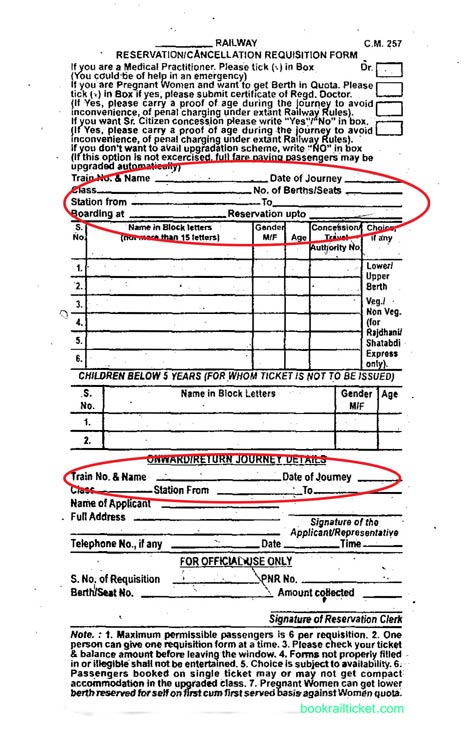 Structure of railway reservation form
An above-given figure is a reservation form for railways. It comes in both English and Hindi. Let's understand how to fill out the railway reservation form.
• First of all, when you see a reservation form you will find some text scripted on the form asking you some questions and you have to answer in (✔️) if your answer is yes, and if no then leave it as it is. It depends on you whether you want to fill out that part of the form or not.
• Further on the reservation form you have to fill in the train number or train name through which you would consider traveling. Then you must write the date of the journey means on which date you would like to travel, furthermore comes a Class option on the form where you need to write through which Coach (second class, Sleeper class, third AC, second AC, first AC) of the train you would like to travel according to your convenience.
• Afterwards comes the number of seats or birth option where you will choose how many seats you want, depending upon the no. of passengers who wants to travel by train.
• Followed by Boarding at _ reservation upto_, in this section you have to write the station name from where you will board-at at your train to the destination city station name.
• Now comes Station from_ to _, here you have to write starting City of the journey to the destination City means to say that you have to fill the city name from where you want to start your trip to the city till where you want to travel.
• Do not forget to submit your Mobile Number, because your mobile number will help you to get SMS regarding your reservation tickets and help you to know the PNR status of your ticket.
When you reach the middle part of the form you will notice another section that will require you to fill
1. Passengers name
2. Nationality – your country name (Indian)
3. Gender – male or female or any other
4. Age of passenger
5. Choice of berth/seat – upper, middle, or lower berth
6. Meals for Shatabdi/Rajdhani/Duronto Express because of their quintessential service to the passengers. These trains are exclusive and superfast so to ease out your journey they offer you meals, snacks, and tea only if you order beforehand in a ticket or during your journey.
On the bottom of the railway reservation form, you will notice ONWARD/RETURN JOURNEY DETAILS. Which simply asks you to fill in that information if you want to make reservations for a return or onward journey. Return reservation means suppose you have applied for a reservation ticket from New Delhi to Mumbai and now you want to return to New Delhi the next day you have to fill ONWARD/RETURN JOURNEY DETAILS on the same reservation form. It will appear like New Delhi – Mumbai – New Delhi.
Whereas ONWARDS JOURNEY means, suppose you have applied for a reservation ticket from New Delhi to Mumbai and now you want to travel further to Panaji, you may fill the same reservation form as ONWARDS JOURNEY to Panaji.
Some extra tips since the pandemic outbreak have halted passenger journeys during covid.
1. Write down the pin code of the area of the destination city where you want to go.
2. Pen down the address of the place where you want to go in the destination city.
3. Pen down the reason/purpose of your travel to the destination city.
4. Write down your AADHAR CARD NUMBER on the railway reservation form.
Wrap Up
Hope this article turns out to be useful for you. All the details to be filled in the reservation form have been explained implicitly/ in detail. Check out this official portal from IRCTC CLICK HERErun by Indian railways. You can fill out the same railway reservation form in HINDI also.