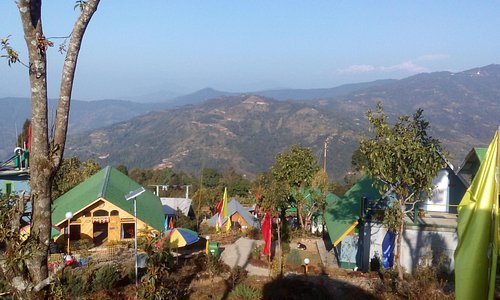 Gorubathan is a small village CB Block of Gorubathan in Kalimpong Sadar subdivision of West Bengal. The population of Gorubathan is 6233 as per the census report of 2022.
The elevation of the place is approximately around 419 meters. This place has a wide range of reviews from tourists according to the Gorubathan Tourism resource. The climate at Gorubathan is neither too hot nor too cold even during the winters.
A Brief History Of Gorubathan
The Lok Sabha constituency of Gorubathan comes under Darjeeling whereas the Vidhan Sabha constituency comes under Kalimpong. If we walk down the history of the place, we will come across the Lepcha kings who once ruled over Gorubathan. Lepcha kings built Dalim Fort on top of the hill at Dalim Busty was a construction by the Lepchas.
Besides this, the king of the Lecha dynasty Gaeboo Achyok defeated the King of Bhutan and also signed a treaty in the fort. It was after this incident that the Dalim Fort became a remarkable place for the Lepcha tribe. The name Gorubathan has a historical origin. Guru means Ox and Bathan mean Herd in the Nepali language.
There is also another story that goes around about Gorubathan. The place was dominated by the Gurus or the priests. All kinds of supernatural powers in earlier times started calling in Gorubathan. The cowboys from Bhutan also used to supply Ox in bulk to the Kalimpong Hat Bazar from Bhutan.
Geographic location Of Gorubathan
If we talk about the geography of the place, it is important to talk about the location of Gorubathan which is 26.98 degrees North and 88.70 degrees East. It is also on an average elevation of 419 meters with an approximate height of 1368 feet. The area is surrounded by the dense forest of Neora valley National park.
Dalim Fort
Dalim Fort is one of the top places which is atop the hill. The place is surrounded by lush forests. The travellers will need to trek through the alpine forest so that they can reach the Dalim Forest. Since it is a hilltop, it is obvious that getting a panoramic view will be a treat to the eye.
Lava Village
Lava is a village in the Kalimpong District. The place is popular for its breathtaking view of the snowcapped fortress. It is a must-visit for people who love enjoying the panoramic view enclosed by meandering the river stream. The village is situated on the periphery of Neora Valley. Here you can explore the verdant forest to your heart's content.
Faforkheti
Located in the dense forest and lush green tea garden, Faforkheti is another destination for Gorubathan. The place is endowed with an abundance of nature. This place is ideal for bird-watching and picnicking in the region. Visitors will have to trek along the alpine forest in order to reach Faforkheti.
Which is The Best Time To Visit Gorubathan?
The best time to visit Gorubathan is during the summer months mostly but due to the moderate type of climate, this place gets to welcome tourists all throughout the year. Yet you can plan a visit to Gorubathan between March and October.
What Are The Things To Do At Gorubathan?
Situated at an approximate distance of 61 KM from the region of Siliguri, Gorubathan is a quaint settlement where an elevation is around 419 meters. So, here is a list of the things/activities which we all can enjoy at Gorubathan.
They are as follows-
Angling.
Picnic.
Shopping.
Tea garden Trip.
Village Trolling.
Trekking.
Hiking.
Gorubathan Attraction & Sightseeings
There are exquisite tea gardens in the Dooars that are found on the way from Damdim to Gorubathan. It includes places Ranichera, Rangamati, Khola, Chel Khola that merge just before Gorubathan towards the river Chel.
The lovely Pathorjhora tea garden is located on the other part of the river. The primary attraction of Fagu is considered to be one of the spectacular Tea Bungalows that are built on the hilltop surrounding the infinite kilometers of tea plantations with the breathtaking views of mountains named as Fagu Tea Estate.
What Are The Places To Visit In & Around Siliguri & Gorubathan?
Other places to visit in and around Gorubathan and Siliguri are as follows:
Bengal Safari Park.
Coochbehar.
Darjeeling.
Coronation Bridge.
Dooars.
Gorubathan.
HongKong Market.
Iskcon temple.
Kurseong.
Mirik.
Phuentsholing.
Salugara Monastery.
Science City.
Sevoke Kali Mandir.
Sikkim.
Lava village.
Dalim Fort.
Fafor Kheti.
Sukna.
Teesta Bazaar.
What Is The Weather Of Gorubathan?
The weather of Gorubathan is moderate and pleasant all throughout the year. If you visit any time of the year, you will experience relaxing weather in this tourist destination.
Every season has its own speciality. There is a unique beauty to offer to the visitors. However, people experience a regular incident of landslides whenever they visit the place during the monsoon season.
So what makes you wait? It is time to plan a great trip to Gorubathan during the months of March to October.
What Are The Homestays & Resorts To Stay In Gorubathan?
Gorubathan is not only a scenic place to stay but also an offbeat destination.
Gorubathan Forest Rest House. (enquire authority for details).
Januki Wooden Homestay. (starts from Rs. 1250/- per night).
Jhandi Forest Camping & Huts. (begins from 1050/- per night).
New Thulung Homestay. (Starts from 1000/- per night).
Chettri Homestay by StayApart happens to be a little expensive with its luxurious features and the price starts from Rs. 8500/- per night.
Other Government Resorts in Dooars Region.
Hollong Tourist Lodge.
Gorumara Eco-village Kalipur.
Dhupjhora Gorumara Elephant Camp.
Ramsai Rhino Camp Gorumara.
Panjhora Chapramari wilderness camp.
Banani Forest Bungalow Murti.
Murti tourist Lodge.
Jungle Camp of Mendabari.
Malangi-Lodge.
Lataguri Neora Jungle camp.
Rajabhatkhawa Jungle Lodge.
Jaldapara Tourist Lodge.
Jhallong River Camp.
Samsing Suntalekhola.
Samsing Rest House in the Forest.
Contact Details:
Booking at the Gorubathan Forest Rest House (Government Resort) or any other government resort near Dooars can be done after calling the phone numbers.
Call On: 8145584286/ 9434860604.
Registered with the Department of Tourism, Government of Bengal.
Sikkim Commerce House.
4/1 Middleton Street, Ground Floor, WB, Kolkata- 700071.
Landline Telephone: +91 3340010180.
Mobile Contact: +91 94774.76376/ +91 94774.84136.
Email ID: mailkhorlo@gmail.com.
Website: www.khorlo.in.
You need to check the reservation rules before booking-
It is mandatory to carry any of the cards that have identity cards (Voter card/ Passport/ PAN Card/Driving License/ Photo Card that are issued by the Central and State Governments. Both these will be examined during the check-in time. Service tax will not be refunded on cancellation of the booking.
Please Note: Booking from Make My Trip, Goibibo or any travel packages may be less expensive. This is because the cost here happens to be inclusive of the tax and discounts. If you try to book separately, things might get expensive for you.
How To Reach Gorubathan From Kolkata?
By Road: The distance of Gorubathan from Bagdogra Airport is approximately 80 KM by road. There are shared shuttle taxis or cars that can be booked from outside the airport premises within a budget of 2100/-. The drivers of the cars are well-trained and thus do travel by taking complete care while driving. They are very friendly and you will not have to search for them elsewhere.
By Air: There are nonstop flights from Kolkata, Mumbai, Delhi, and Chennai to Bagdogra Airport (IXB) within a very affordable price range. And once you drop down at the Airport, you will need to book a taxi to reach Gorubathan. If you book a travel agent or tour package from your destination to Gorubathan, then the trip agent will guide you accordingly which will be included in the package. The fare of the flights starts from 3200/- onwards.
By Bus: Travelers can travel to Gorubathan by bus also. There are primo buses from Siliguri and Kolkata to reach Gorubathan. The journey can be overnight or during the day. The distance between Gorubathan from Siliguri is 50 KM. Hence travellers prefer staying in Siliguri after they visit and come back from Gorubathan.
By Train: There are two major railway stoppages that take tourists to Gorubathan. One is New Jalpaiguri Junction (NJP) and Siliguri Junction (SJ). If you are far away from any railway station , one can reach by taking a flight to any one of the railway stations and then hiring a taxi from there.
Best Flights From Kolkata To Gorubathan Within Affordable Prices
Nonstop Flight IndiGo
Arrival Airport: IXB (Bagdogra)
Departure Airport: CCU (Kolkata)
Timings: 7:55 AM- 9:00 AM
Price: Rs. 3222/-
(1 Hour 10 mins).
Nonstop Flight IndiGo
Arrival Airport: IXB (Bagdogra)
Departure Airport: CCU (Kolkata)
Timings: 12:40 PM- 1:50 PM
Price: Rs. 3450/-.
(1 1 Hour 15 mins).
Go First Flights
Arrival Airport IXB (Bagdogra).
Departure Airport: CCU (Kolkata).
Timings: 13:00 PM- 14:20 PM.
Price: Rs. 3560/-
(1 Hour 20 mins).
Please Note: All bookings are done through the app so that you can avail of deals accordingly. You can avail of the discounted prices through the ixigo app or website. If you are lucky, you can avail 50% discount on your trip and 82% off on homestay.
Final Thoughts
Gorubathan is a minor town in the subdivision of the Darjeeling district in Kalimpong. This place is almost 98 KM from Kalimpong town and 56 KM from Siliguri. There is a village market which is organized every Monday. Gorubathan is located on the east bank of the Neora River.
Plan your visit to Gorubathan this March with your family and friends.