Located in the Gorubathan Block in Kalimpong district, Jhandi is an extraordinary tourist place in the topography of the hills. It is just perfect for enjoying an offbeat weekend. It is located at a distance of 12 KM from Lava in the state of West Bengal. This tourist spot is perched at a height of almost 6230 feet above sea level.
Jhandi: Unplug The Mystic Ambience In The Offbeat Region
Jhandi is a picturesque village surrounded by mystic hills along with dense forests. Highly set in the calm and serene surrounding by mighty hills and dense forests. The hamlet is embraced by the lush, tropical forests of Pine and Sal trees.
While at Jhandi, there is no need to miss out on visiting the Samabeong Organic Tea Garden. This place is known for employing biodynamic farming in tea cultivation. The lush green tea plantations fill the lungs with unpolluted air by enjoying the exquisite beauty of nature.
Flora and Fauna of Jhandi Forest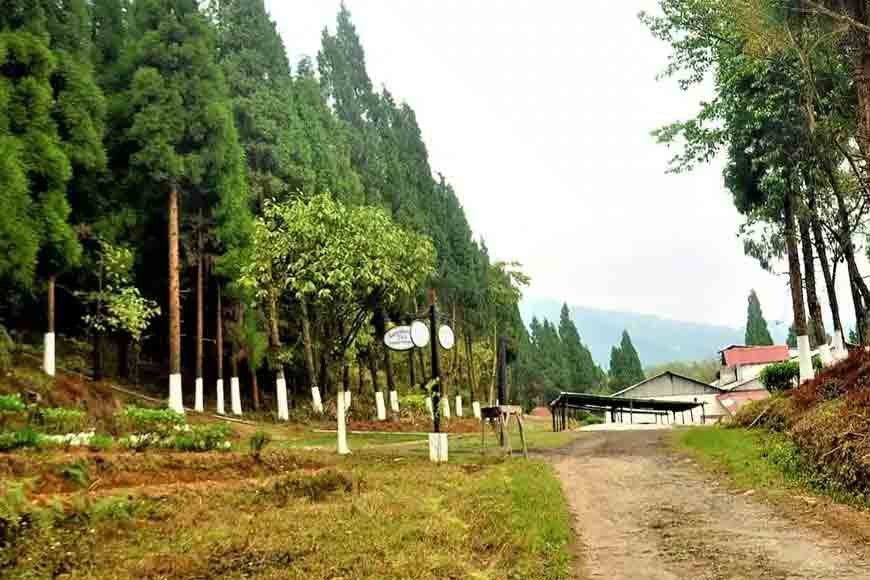 These forests are home to some of India's rarest flora and fauna. Jhandi is considered to be a bird lover's paradise along with the hundreds of different breeds. It offers glimpses of the treetops. Numerous species of the birds like Himalayan monal, Himalayan black bulbul, satyr tragopan, slender-billed scimitar babbler and the sunbird are sighted at Jhandi.
The forest in Jhandi is covered with birds and offers hiking trails that are quite interesting for adventure lovers. Low altitude trekking, visiting Samabeong Tea Garden as well as lonely walks through the quaint hamlet. The sunrise and sunset point is also commonly known as Jhandi Dara.
Jhandi Dara is known for its majestic view through the mist. Thus one can get a panoramic view of this vast picturesque place and also the snow-clad peak of Mt. Kanchenjunga. You can visit other places like Lava, Lolegaon, and Gorubathan from Jhandi.
Bestowed with the endless nature's bounties, Jhandi is a perfect destination for all who want to spend some time relaxing away from monotonous city life. It is a destination that is covered throughout the year. During the monsoon season, it turns into lush green and you can experience the mystic ambience. But with the onset of monsoon, there are risks like landslides and leeches.
What Is The Distance Between Siliguri to Jhandi by Car?
The distance between Jhandi and Siliguri is 87 KM. If you book a car for yourself you can easily make a way out to Jhandi within a few couples of hours.
What Is The Ideal Time To Visit Jhandi?
The ideal time to visit Jhandi is between the summer months and mid-December. Winter months after that might experience landslides and extreme cold that might not be so great for travelers. Monsoons are also not favourable for the visit.
Sightseeing Areas Near Jhandi, North Bengal
Lava Buddhist Monastery.
Changey Waterfalls.
Samabeong Tea Estate.
Jhandi Dara Viewpoint.
Fafar Kheti.
Dalim Fort.
Neora Valley National Park.
Darjeeling.
Gurudongmar Lake.
North Sikkim.
Zero Point.
Gorubathan.
Tiger Hills.
How To Reach Jhandi?
By Air: You can reach Jhandi from Bagdogra Airport from any destination of your nearest airport. The starting price of the airfare is Rs. 2522/-. The distance between Siliguri to Jhandi is 1240 KM.
By Bus: You can also take the night bus towards north Bengal up to Siliguri. The cost of the bus ticket starts from Rs. 300/- per head. The distance from Siliguri to Jhandi by road is 1700 KM. Popular bus routes are Kollemcode Bus, Palgad Bus, Mandalgarh, Dharni, and Ponda from Siliguri.
By Rail: You can also travel to Jhandi by train route also. There are popular train routes from Siliguri to Shelgaon H, Iringal, Bhimavaram Town, Kotma, and Sikar Junction.
Some popular train routes & timings are-
Karmabhoomi Express (22512)
Siliguri Jn to New Jalpaiguri Station.
Departure: 03:25 PM.
Arrival: 00: 23 AM.
Kamakhya Puri Express (15644)
Siliguri Jn to New Jalpaiguri Station.
Departure: 08:10 PM.
Arrival: 00: 20 AM.
Capital Express (13246)
Siliguri Jn to New Jalpaiguri Station.
Departure: 12:45 PM.
Arrival: 01:00 AM.
Tour Itinerary For A Perfect Weekend Getaway
Day 1: Start from Sealdah Railway Station on Kanchenjunga Express (SDAH) to New Mal Junction.
Day 2: Travel from New Mal Junction to Jhandi within 2 to 2.5 hours.
Day 3: Sightseeing nearby Jhandi, visit Kanchenjunga, Lolegaon, Lava, Gorumara, Chapramari, Rishyap, Kolakham, Darjeeling, and Monastery.
Day 4: Retreat from Jhandi to Sealdah railway station.
Jhandi Eco Huts: A tranquil homestay among the serene forests
Jhandi Eco Huts is a great place to book your stay in this place at affordable prices. Staying here will be a lifetime experience for the tourists. Moreover hiking in the forests from here will make you spot sub-Himalayan species by making it a popular thing to do among nature lovers.
Food/ Meals: Egg/Fish/Evening Tea/Coffee & Snacks & Dinner (Chicken). The price of the food starts at Rs. 450/- per head. You can order on an a-la-carte basis from the menu. The flooding of the guests is taken care of by the host at the Jhandi Eco Huts only.
Transport: You are offered pickup and drop from New Mal Junction from NJP. The charges start from Rs. 1800/- and go up to Rs. 2800/- from the NJP.
Contact Details:
+91 9836830342/ +91 7585985032/ +91 8348875867/ +91 8906672949/ +91 9002266755
Email Address: mdwbtdc@gmail.com/ dgmrwbtdc@gmail.com/ visitwestbengal@yahoo.co.in.
Accommodation Options Near Jhandi & Contacts
Prantik Homestay
Call: 9830371744.
Price: Rs. 1600/- per room.
Humour Home Jhandi
Call: 18001233759
Price: Rs. 2600- 3600 per room.
(Breakfast/lunch/dinner).
Jhandi Eco Hut
Price: Rs. 1500 - Rs. 4000 per room.
Call: 9002266455
The Retreat Jhandi
Call: 9836830342/ 9831309512.
Price: Rs. 450 per head
Final Words
Jhandi is a remote village that has now become an attraction of the limelight. The forest is now home to several species of birds The entire region is also known as Nim Khasmahal which is popular for bird watching. Jhandi is getting popular among tourists for its sublime beauty.
If you love to enjoy being among the hilly woods, then why not book your tickets to Jhandi and make your weekend shine with hilly delights?