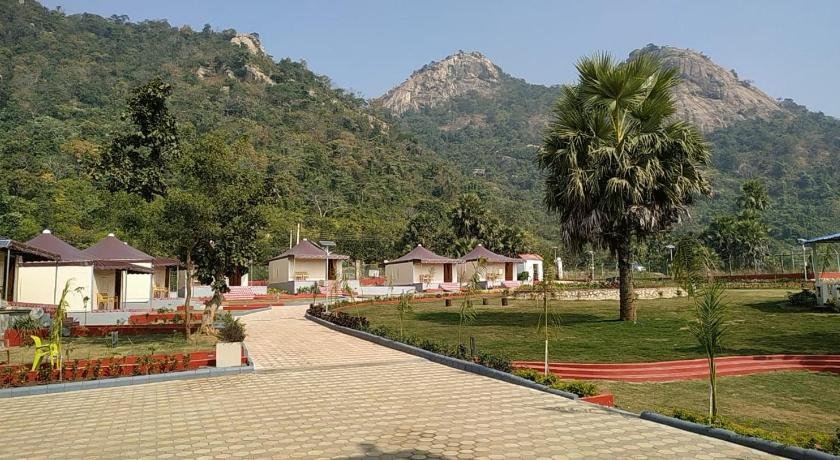 Matha Forest Resort, a unit of the Group of Pearltree Hotels and Resorts Private Limited, is a tourist spot in the Block of Bagmundi, Purulia. It is situated on the Matha Hills. It is popularly known for the aesthetic beauty surrounding the place.
An Annual Mela is held on the hills. This is an initiative conducted by the tribal community of the place. This resort features a terrace that gives a beautiful sight of the mountain views. Matha Hills are also known by the name Mathaburu Hills.
There are many small and big places of tourist attractions that make this place one of the best places to stay. Out of which, these two are very common-
Pakhi Pahar.
Pardi Dam, Ayodhya Hills.
Amenities Available at the Matha Forest Resort
Free Parking.
Free Wifi Services.
Doctor On Call facility.
Free toiletries.
Bathtub.
Private Bathrooms.
Towels.
Hairdryer.
Shower.
Garden.
Wardrobe facility.
Breakfast facilities.
24X7 Room Services.
Lavish Restaurant.
Power backup.
Non-Smoking Areas.
CCTV Surveillance.
Safety & Security.
Disinfectants.
Masks.
Sanitizers.
Check The Matha Forest Resort Rules Here-
Unmarried couples & guests are allowed (Local IDs are a must-have).
Guests with fever are allowed.
PAN cards, Non-Govt IDs & Office IDs are not accepted as ID proof(s).
Property Staff is trained on hygiene guidelines.
Safety & Hygiene.
When Is The Best Time To Visit?
Many camps are prepared on demand by tourists. There are rock climbing courses that are being conducted by various organizations. Matha Resort and its surroundings are decorated as it is a spot that is mainly explored by all during the winter seasons. Thus we can say that the winter seasons are the best time to visit the Resort for a short vacation.
Address: Village+ Post: Matha Forest, Purulia. Hillside Road, Near Panchayat Office, Purulia. West Bengal 723152.
Contact Number: 09051066001/09903853377.
Booking price: Booking starts at Rs. 1350.00 per night depending on the rooms. The price may go up to Rs. 6336 per night.
Multiple payment methods are available here. And, travelers can avail of the facility of free cancellation in case of any emergency. Bookings are mostly done through traveling apps which makes the package convenient and provides value for money.
What Is The Distance From Matha Forest Resort?
Nearest Airport: Birsa Munda Airport (113.7 km).
Nearest Railway Station: is Purulia Junction (36.78 km).
Distance From Sindri: 8 Kms.
Balarampur is at a distance of: (11.4Kms).
Distance of Ayodhya Hills & Forest Reserve Area: (10.4 KMs).
Pakhi Pahar is at a distance of: 1.5 Km.
Please Note: If you search on the internet before exploring the place, you will come across 333+ recent stock images of Matha Resort Forest nestled amidst the hills and forest areas.
Nearby Places To Visit From Matha Resort-
Baranti Hills.
Matha Hills.
Ayodhya Hills.
Pakhi Pahar.
Matha Tree Houses.
Joy Chandi Pahar.
Deulghata Temple.
Lohoria Temple.
Final Lines
Purulia is a land that talks of natural beauty. The landscape tells a tale of lush green and verdant hills with dense forests. This makes it a perfect destination for tourists to enjoy a perfect vacation.
The rustic ambiance of the Purulia and especially around Matha Forest Resort offers serene surroundings to weary city dwellers. Besides, the tribal ethos takes an active part to create a mystic charm along with the natural beauty of the land of the red soil along the red blooms of Palash.
It is a time of the year when people are in a festive mood to celebrate New Year. Why not visit the Matha Resort Forest and escape from the maddening crowd of the city's busy life and take pleasure in the lap of nature?
Book a short trip to Matha Forest Resort with your friends and family.