Are you looking for a quaint and solace holiday destination amidst the lap of the mountains? Come to Upper Sittong. Sittong West Bengal, is an excellent spot for tourist attractions. The weather is lovely and pleasant enough. The village is famous for its orange cultivation. And the orange orchards offer a visual treat to travelers.
Sitting is located in the deep valley beside the Riyang River. It is just 78.5 KM from the NJP railway station, Siliguri and Bagdogra Airport. It is popularly known for the massive cultivation of orange farming. Sittong is divided into three parts: Upper, Middle, and Lower. Upper Sittong is also known as Ghaletar.
Upper Sittong: An Introduction Of The Hilltop Village
Upper Sittong is a part of the Kurseong region of North Bengal. It is at the highest elevation of 26.93662' North and 88.36736' East. There is much more to offer tourists besides the oranges in Sittong, North Bengal. Here you can trust to enjoy the view of the pristine hills in all its glory.
Throughout the year, Upper Sittong remains a constant in terms of weather. So, it is wise to book any Upper Sittong homestay in the lap of the Himalayas. In this village, travelers will enjoy the beauty of this nature, unspoiled by the tourist crowd. Sittong is blessed with lush green and orange orchids and beautiful waterfalls surrounding it. Some gardens are full of fruits and vegetables. The Lepchas named the village Sittong after them. Sittong in Lepcha means Tiger.
There is a comprehensive collection of birds of all kinds. Thus comprising everything together, it can be said that Upper Sittong is a heavenly place to stay together. If you want to avoid traveling in a small crowd, Sittong is the right destination. If you see the map, you may locate Sittong in the eastern portion of the Darjeeling Himalayan hill region in the Terai region.
Is Sittong worthy of visiting for short trips?
Yes, Sittong is worth visiting for short trips. In Sittong West Bengal, travelers can do multiple outdoor activities. It is perfect for enjoying adventurous sports. Sittong is all about exploring the natural beauty that is hidden in the surroundings of the lush green atmosphere. Every hotel and homestay has marks of luxuries and comfort that are also within the most affordable budget.
The view of Mt. Kanchenjunga and other peaks stands proudly along the glistening snow and will accompany you when you walk around the hilly roads from here. The winding roads through the green tea garden and the valleys will allow travelers to spend some quality time amidst nature. Don't think that Sittong is a small village; they know the modern amenities.
Why Is Upper Sittong So Popular?
Upper Sittong is famous for its orange orchids. The entire area is renowned for its orange cultivation. Mainly during the winter, the Sittong area is covered with oranges. It is a perfect treat for all travelers who love to enjoy the Sittong backdrops of the village. There are multiple numbers of orange gardens in Sittong West Bengal. Tourists find these gardens and their oranges lovely and eye-catching natural beauty.
Sittong is known for the most untouched parts of the foothills of the Himalayan ranges. It also offers a little picturesque view of the Lepcha village. It lies across a valley crisscrossed by a rivulet (Khola), where the garden has huge rows of orange trees. Visiting Upper Sittong is time taking travel. On the way, passengers must cross the bamboo bridge, church, winding village and orchards with a few meandering streams and creeks.
How to Travel To Upper Sittong in West Bengal?
By Railways: Siliguri and Sittong are connected by essential railway stations. It is located 48 km from Sittong, while NJP station is 52.4 KM away. Depending on the weather and the roads, the cabs arrive between 2 and 2.5 hours.
By Bus: A straight path leads to the crossing from both Kalihara and Brikdara stations, turns towards the straight route that intersects at Mana crossing, and continues 500 meters downhill through Ghaletar main road. Through the Sevoke Kalijhora route, which is accessible from Siliguri by NH 31/A, you can travel here. The bus ride there could take between 2.5 hours.
By Air: A 57.6 KM distance separates the town from Bagdogra Airport. Depending on the distance to the destination, the state of the roads, and the time of year you choose to travel, it takes 2 hours and 50 minutes to get there. From outside the airport, you will get cabs and private taxis to take you to your desired destination.
What Kind Of Service Does A Upper Sittong Homestay Provide?
Upper Sittong homestay is a popular option for accommodation when it comes to choosing affordable staying options. The homestays provide ample space for campfires, and check-in in this homestay is too safe and reasonable. Tourism is the main reason that contributes to the state's economy. Moreover, it is a wise option to stay in homestays to save a good amount of money.
The orange orchards here offer a visual treat for travelers. Homestays will give travelers better value for money. If you plan to go out on vacation, choosing homestays will be a wise option. Homestays in Upper Sittong West Bengal, provide the right balance of independent living with having someone to look after the entire group.
What are the facilities at Sitting Homestay?
Cab booking services.
Dining hall.
Sightseeing & tours.
Car parking spaces.
24X7 water facility.
TV sets.
Geysers.
Hot water service.
Laundry service.
Daily room service.
Breakfast/Lunch/Dinner.
Bonfire arrangements.
24-hour power pack.
Flexible payment options.
Pick Up & Drop Facility.
Please Note: The pocket pinch for the Upper Sittong homestay is Rs. 1550/- + GST per head. You can stay in rooms where meals are included. The food you get is entirely home-cooked. This is suitable for kids as well as adults. In addition to this, the meals also have another sparking rule. There are complimentary meals for kids up to 5 years and below. The cost of the food is half for kids who are 6 to 9 years of age. And those above ten years are charged fully for their food.
Where To Stay in the Upper Sittong?
Irrespective of their size and structure, all homes here in Sittong are called Homestays. Geographically, Sittong has enormous landscapes that draw vast crowds of tourists from around the world. The homestays in Sittong, West Bengal, offer hotel-like amenities with 20 and more rooms.
The local families manage all the homestays. Travelers mostly choose their stay places depending on the facilities they can afford. There are 5 to 6 rooms in a house where the owner stays in a seperate part and they put up other rooms for the tourists with flooding and lodging together.
Some Useful Sittong Homestay Contact Numbers Open For Booking
If you are looking for a comfortable and reliable homestay contact number, this post will help you find a few handfuls of contact numbers which will help you ease your journey to some extent. The calling time for all the homestays is from 8 AM to 10 PM for direct booking.
Panch Pokhari Homestay : 91 8918163690.
Orange Tree Homestay: 7501844554.
Sandhya & Bhaskar Thapa Homestay: 9903283842.
Humro Home Stays Sittong: 9733071716.
They have 3-4 cottage rooms where travelers can accommodate up to 6 people together if they are traveling in a group. It will be fun traveling together. The rooms are all clean and comfortable. There are so many homestays in Sittong, but booking the hilltop homestay in Upper Sittong is best. more details Sittong Homestay...
What are the nearby destinations from Upper Sittong?
The nearby destinations from Upper Sittong are Darjeeling (40 KM), New Jalpaiguri (55 KM), Kalimpong (57.55 KM), Mangpu (44.3 KM), Kurseong (43.5 KM), and Tinchuley (38.2 KM), Takdah (56.32 KM). Sittong-I, Sittong- II and Sittong-III are the three villages.
Other places of attraction are Ahaldara Viewpoint, Latpanchar, Mahananda Wildlife Sanctuary, Barasit Tong Khasmahal, Lonku Khasmahal, Mangpu, Rolak Khasmahal, Shelpu Khasmahal, Toryak Khasmahal, Mahaldiram Tea Garden, Upper Mamring, Lower Mamring, Teesta River, Mana, Pokhri, Tham.
What To See & Do In Upper Sittong?
Upper Sittong is a well-spread-out region. It comprises not only multiple villages and other great hamlets all around. Upper Sittong homestay is split across 2-3 days for a few days. It is mainly called the land of orange cultivation. Whoever wants to enter the garden must pay the entry fees.
Every orchard has a separate owner to look after the garden. The best time to see oranges get cultivated in full bloom is between November to January. The winter months are the best time to visit Sittong. One can catch a clear view of the mountain, Mt. Kanchenjunga. Orange Village is located on top of the Shelpu Hills.
When Is The Best Time To Visit Sittong?
The best time to visit Sittong is from November to January. It is the season of orange farming and their harvest. Moreover, it would be best to have warm clothes ready as it becomes very chilly at night and in the daytime. The traveler's favorite weekend destinations are the pristine environment and the pleasant weather throughout the year.
What are the nearby places of attraction in Sittong?
Surrounded by hills and mountains, Upper Sittong is an offbeat and less-trodden destination among tourists. It is therefore known as an offbeat isolated tourist location. Most places nearby still hold their original beauty and are away from the invasion of tourists.
Here are some places of attraction in Sittong which are must-visit places whenever you are in Sittong.
Maldiram/ Mahal Diram: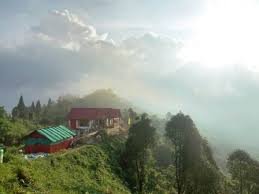 It is a popular tea garden in Kurseong. The place is covered with mist and clouds. The location is located 6000 feet above sea level. The lush greenery under cover of the cloud and mist gives a picturesque view of the hills.
Jogighat:
This bridge connects two villages of Sittong West Bengal. One is Mungpoo, and the other is Sittong. The place is built over the river Riyang. This place is a famous tourist place in Sittong. The beautiful bridge is made of steel and is very strong.
Namthing Pokhri: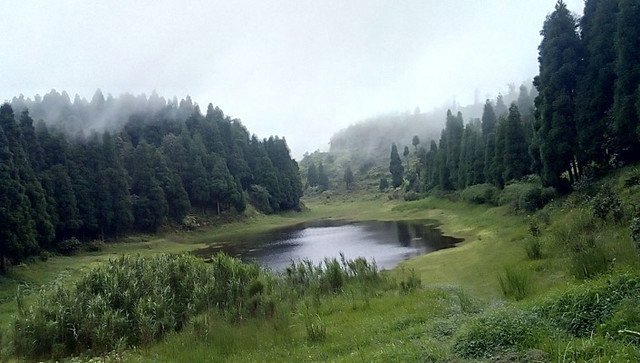 Salamander in Namthing Pokhri is a common sight. Travelers who are lovers of wild animals must visit this place for some adventurous time. Not only water but the area is famous for its vast collection of fauna. The salamander in this part of the region belongs to the Tylototriton Verrucosus category. These are primarily found in India.
Mongpu/ Mungpu:
One such place that travelers must take advantage of whenever they plan their trip to Sittong. It has a relevant description in the works of Nobel Prize Winner & Bengali Poet Kabiguru Rabindranath Tagore. He has made a special mention of this place. The natural beauty of this place is captured during the winter months especially when orange cultivation takes place.
Ahaldara & Latpanchar:
Situated at an altitude of 5000 feet above sea level, Ahaldara & Latpanchar is a new tourist destination located in the hilly region of Mahananda Wildlife Sanctuary. It is in the Darjeeling district under the Kurseong division of Sittong, West Bengal. The areas are highly covered with a massive collection of flora and fauna to attract a huge crowd of visitors to this part of the country during the winter months.
Chatakpur:
This place is almost at a distance of 22.5 KM away from Upper Sittong. The site offers the most panoramic view of the snow-capped Himalayan mountain. This place is a haven for nature lovers and bird watchers. Before the village of Chatakpur became recognized, the area was covered with timber dens, and people used to check the rampant smuggling out of place.
Kurseong: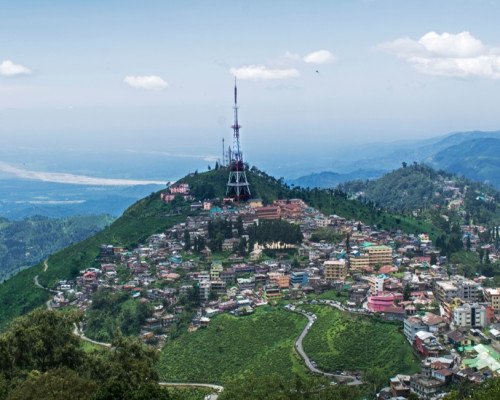 Kurseong is located at a distance of 24 KM from Sittong and at an altitude of 1488.55 meters above sea level. It is famous for its white orchids and is also known for the numerous tea estates they have. If you are mainly planning a laid-back vacation trip amidst the ideal alpine natural beauty, Kurseong is the best place to visit.
What are the outdoor activities near Sittong West Bengal?
Travelers can spend some time in the gardens in Sittong, where orange cultivation is done from November to January. They can even taste some juicy and sweet oranges. The time of harvesting is between December and early January.
The next trip you can choose to make is to visit Yaksha. It conveys the travelers the experience of community-based life.
Since the footfall of visitors is less in Sittong, there are birds, butterflies, animals and flowers of all kinds and categories growing here without the fear of being perished with age.
There is an old Monastery on the way to Upper Sittong. There is a list of prominent homestays in this place. The most eminent Upper Sittong homestay comprises mainly bamboo and mud. It is an ideal place to visit that can help view the Kanchenjunga range with glory.
Enjoying a relaxing campfire and bonfire is very common here. Even the homestays arrange for a relaxing outdoor activity with your group. The management of the homestays makes all the arrangements for safety and security. And that is the reason why tourists gather here for an experience of an offbeat weekend destination.
The Sittong Church is also a place that is worth visiting whenever you plan to explore the beauty of Sittong, West Bengal. You can also schedule a picnic at the Jogighat bridge. Tourists prefer to rejuvenate their souls here in Sittong.
In addition to all this, Upper Sittong is also famous for its vast collection of birds and butterflies that this region has been supporting for so long. Classic varieties of birds can be found here. Mahananda Wildlife Sanctuary is a popular spot for bird-watching.
Know How To Reach Sittong West Bengal?
Sittong can be reached from Siliguri/NJP and Bagdogra. Passengers can also take the route through Sikkim and Kalimpong. It is more likely to travel through the Teesta side. Suppose you have the two main arterial roads in Darjeeling Hills; then you must choose Hill Cart Road or NH Road no. 110.
If you check the map of Sittong, you will find that traveling from the eastern side will be easy. Sittong West Bengal is situated in a mountainous area between Sevoke Road and Hill Cart Road and also in Kurseong Subdivision.
At Dilaram, you will need to take a sharp uphill turn. You will now be ready to go onto Bagora road, Porkhriatar; one needs to reach the Sittong area like Mahaldiram in Sittong II and then halt to Mana, Tham Galaytar etc. further onwards to villages like Laptanchar. From Bagdogra airport, the total road distance is 64.6 KM, which will take about 3 hours and 20 minutes by car.
What are the Taxi Fares to Sittong?
Taxi fares to Sittong may increase and decrease depending on the peak season. The private taxi from Sittong charges Rs. 3000/- and above at times to take you to Sittong. It covers almost 51.3 KM within 2.3 Hours by car to reach Rambi Bazar from Sevoke Road.
Starting from NJP station, you will get to reserve a taxi to Sittong so that your journey is safe and sound. The charges are 250/- to 300/- per person. If you plan to take a pre-paid taxi from Bagdogra to Sittong, you will never get one.
Please ask the owner of the homestay in Sittong or the lodge you are booking for your accommodation to arrange a pickup and drop for yourself. If you book from Darjeeling, the taxi fare is as it is. It ranges from Rs. 3000/- to Rs. 3500/-.
Pro Tip: Moreover, there are occasionally shared taxis between a few villages of Sittong and Bagora, Dilaram, Kurseong, Mirik and more. They are only somewhat suitable for tourists who are new to this area. You can also map your journey out from the nearest Bagdogra Airport if you hire a travel agent to guide you. Buses will also take you to Sittong if you board it from Kurseong.
Final Thoughts
Sittong is a popular travel destination for those who love to enjoy some precious moments of joy in the lap of Mother Nature away from city life. If you want to enjoy trekking and adventure sports in Sittong, then it is one of the best destinations.
It will take an hour to trek to the hill's highest point. But once you are on the top of the mountain, you can see the beauty of nature from there. Since Sittong is the latest addition to the tourism landscape of Darjeeling, you must visit the land of the oranges.
Most of the homestays are relatively new. Although there are over a hundred homestays, the Upper Sittong homestay is a wise option. The booking is made through email and also over phone calls.
If you are looking for a suggestion to plan your next trip to the hills but need help understanding which places to choose, Sittong is the right option.
Let's answer the call of the hills this time!