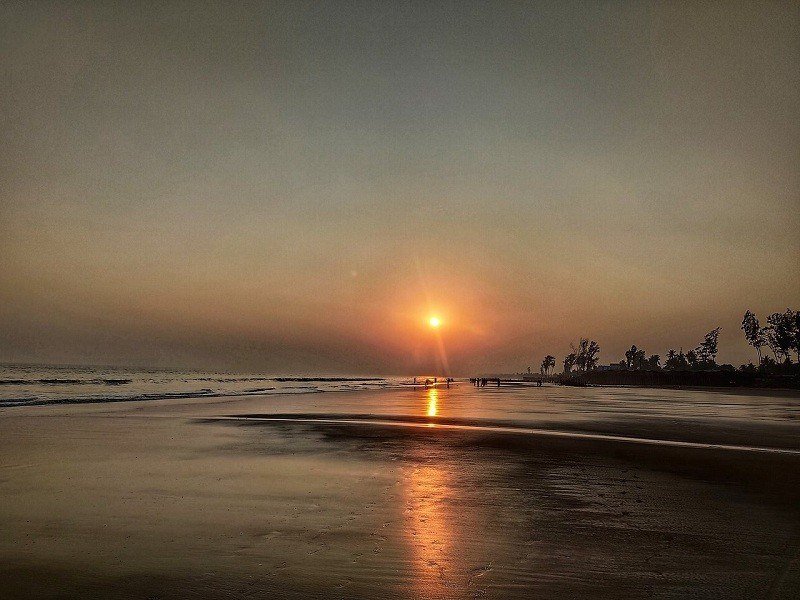 Everything You Should Know About Tajpur The Hidden Tourist Spot
Tajpur is a beautiful coastal town located in the Purba Medinipur district. It is a state of West Bengal on the shore of the Bay of Bengal. The place is 168.78 km from the central city of Kolkata.
Tajpur sea beach is known for its pristine beaches along the waters of the Bay of Bengal. Bereft of chaos and cacophony, Tajpur offers a perfect escape from the hustle-bustle of city life.
Tajpur sea beaches in West Bengal are close to the Golden beaches of Shakarpur and Digha. This place is an unknown weekend beach destination from Kolkata. Although less crowded, this tourist spot has many activities and attractions. Tourists can enjoy seeing the red crabs during the daytime; it looks like a red carpet welcoming you to Tajpur West Bengal's sea beaches.
Long walks on the beaches and trying out local seafood in this part of the state are widely popular among tourists. Other popular activities among tourists are temple visits, bird watching, and trekking. Tajpur is considered one of the most hidden sea beaches in West Bengal.
What does the Tajpur sea beach look like?
Tajpur sea beach lies in the district of Purba Medinipur. It is one of the southern districts of West Bengal. It lies on the Kolkata- Digha route. It is at a distance of 17.5 KM from Digha. Recently this place has been ranked as one of the prime locations. The vibrant tamarisk trees on the sea beach are a worthy scene altogether.
Moreover, seagulls are seen at the break of dawn at Tajpur and on the sides of the sea beaches. Presently Tajpur is considered one of the popular destinations among the Bengal people, other countries, and foreigners. Tajpur sea beach offers a convenient location for tourists from around the globe.
There are patches of forests, and it also offers a seashore destination that spreads a great visual pleasure to vacation at Tajpur sea beaches. This place is popularly known as virgin sea beach all around Kolkata. Together it gives excellent visual pleasure. The sea beach of Tajpur West Bengal, is believed to have an unusual shape.
What is Tajpur famous for?
Tajpur holds an inverted crescent shape of the beach, which gives a usual panoramic view of the sea and its incredible view. Besides the sea beaches, a fisherman village along the Bay of Bengal. The crimson-red appearance of the beach is all set because of the thousands of red crabs population living here. This beautiful view adds something more to the scenic landscape.
Can tourists take a bath at Tajpur Beach?
No, tourists cannot swim or bathe at the Tajpur beach in West Bengal. The water is not ideal for fun activities except for scenic beauty. The sea shores at this place are deep and dangerous for all. Therefore, tourists are not allowed to take baths at the Tajpur beach compared to the Digha sea shore.
Explore The Tajpur Beaches in West Bengal this vacation
Known for its pristine beach, Tajpur still needs to be explored by tourists. Tajpur West Bengal, is a perfect getaway for vacation lovers seeking a peaceful vacation spot. The pristine beaches stretch for around 2.8 km to 3 km. It is lined with popular and sweet casuarina trees. Besides this, Tajpur offers a serene and picturesque view.
Besides enjoying the view at the Tajpur beach, the visitors can also indulge in water sports activities like surfing, campfire, walking on river roads, bird watching, trekking, and many more. There are also several fishing villages nearby, where visitors can witness the traditional fishing techniques of the locals. People enjoy fishing at their best.
What is new to see here in Tajpur?
It is an excellent place for weekend tours amidst the natural beauty. There are lots of local shops for food and other amenities. In addition, there are multiple pay-and-use toilets nearby for use by tourists. Marine Drive is under construction here, connecting Mandarmoni to Digha through Shankarpur and Tajpur.
People from the nearby areas come here to celebrate special events like birthdays of their special ones, anniversaries, and get-togethers. However, Tajpur is best for picnics and other short programs.
What to eat in Tajpur West Bengal?
Bengali cuisine, including different kinds of fish items, happens to be a popular item in Tajpur. The assorted collection of prawns, crabs, and prawns are the best-known quality of fish that tourists visit here to eat.
In addition to this, there is the availability of bottled beverages. If you prefer to enjoy food and drinks for night parties, the Tajpur hotels have arrangements for all of these. If you want to enjoy home-cooked food, you can ask the people at the hotel to do so. Arrangements are made by the hotel authority as well.
Besides these, the Tajpur hotels have good lodging and fooding options. The local restaurants typically serve delightful and reliable courses of food. There are seafood varieties and Bengali curry delights available within an affordable place. The Tajpur sea beach shacks have coconut water and tea stalls.
If you love to eat fish, visit the beach early in the morning to catch the fish and bring fresh saltwater fish from the sea. Here you can buy fish of all kinds and in multiple quantities. You can give it to the hotel cook who will cook the fish for your family. However, afternoon strolls along the beach are a must-have thing during winter.
How to Reach Tajpur, West Bengal?
By Road: The distance of Tajpur is about 180 km from Kolkata. Moreover, there are regular operating government and private buses to Tajpur Beach. Tourists can even book cabs to reach Tajpur within convenient price ranges. Sometimes, tourists plan to travel overnight by bus or by car to reach Tajpur. If you choose to travel by car, you can cover 172.9 km through NH16 and NH116B from the state capital of Kolkata.
By Rail: The option of the railway is another mode of transportation that people choose to travel by. It is because the charges are also less. All you need to do is to book Digha-bound trains. And, once you reach Digha, you must board a cab or any other vehicle to travel towards Tajpur.
By Bus: The best way to reach Tajpur is to hire a car and drive towards Tajpur Sea beach. While traveling by bus, there will be stoppages at certain places on the way. It would help if you took National Highway No. 6 towards Kolaghat via Eksara, Salap, Alampur, Fuleshwar, and then on Bagnan through NH 41 to Tamluk. From there, the bus will take State Highway 4, and you will go straight to Tajpur through Contai and Balisai.
The distance between Tajpur Sea beaches is roughly 20-25 minutes. It is set between Madarmani to Shankarpur. This place is located in the Contai region. It is perfect for a one-day trip. Tajpur is still the most popular yet unexploited virgin sea beach around Kolkata. There are red crabs all over the sands which play hide and seek in the sand.
When is the best time & weather to visit Tajpur?
Tajpur is one of the best weekend trip spots to enjoy a weekend trip with family and friends. If you have a plan itinerary ready, it will help you plan your trip well. October to February is the best season for trips to Tajpur and its surrounding areas.
The temperature in these places is comparatively lower compared to the other places near and far from Tajpur. There is regular rainfall during the monsoon months between 12'C and 24'C. The ideal climate and time to visit Tajpur is from October till the end of February during the winter months.
The maximum temperature at Tajpur is 35'C, and the minimum temperature at this place is 24'C. The first thing that comes to mind when planning your trip is the place of stay. The next step is to google out some budget hotels and resorts that can ease your trip for the next few days.
Tajpur hotels remain crowded during the summer season and also during the advent of springtime. The sunset in Tajpur is mesmerizing, and thus travelers gather here in the evening.
Top 6 Tajpur Hotels Are Here As Follows:
Tajpur hotels are not huge, but they are all known for their excellent services and the food they offer tourists. These hotels come with complete modern amenities. They are all couple-friendly, friends and families. You will find the best properties at the best price range, which is too good if you travel in a group.
Tajpur Village Hut: 9163428385.
Tajpur Eco Resort: 9007224814.
Purni Hotel Tajpur: 98308 20599.
Tajpur La Macaw Resort: 9674407000.
Tajpur Moonrise Resort: 9563819191.
Blue Lagoon Resort Tajpur: 9831044296.
Please Note: You can pre-book the resorts and the hotels and you are also subjected to spot cancellation with any penalty. The rates of the rooms in all hotels are highly affordable and within pocket-friendly budget.
Some Other Places Of Visit Near Tajpur
Digha.
Bakkhali.
Mandarmani.
Sagar Island.
Shankarpur.
Kolkata.
Shantineketan.
Udaipur.
Frequently Asked Questions About Tajpur In West Bengal
Q1. What can you use to go around Tajpur in West Bengal?
Ans1. You can use various convenient transportation to get around Tajpur. Moreover, you can also use Rickshaw Van or take a bus to the nearest destination in Tajpur. Besides this, you can also choose to walk around and have a gala sightseeing trip along the Tajpur Sea beach.
Q2. When should one plan to visit Tajpur in West Bengal?
Ans2. The best time to visit Tajpur is during the winter and spring months. Although the weather here is never too cold, winter afternoons are the best to stroll around. Tourists visit this place almost every month throughout the year. Still, in March and April, tourists from bengal, Bihar, and Odisha visit an annual fair held at Chandreshwar mandir.
Q3. What can you buy from the stalls and markets of the Tajpur sea beach?
Ans3. The stalls and the markets of the Tajpur sea beach are always full of vibrant collections of clothes, shell trinkets, hats, and colorful objects meant to be kept in the showcase. The price of the goods is also less comparatively. The locals here are most of the time busy reconstructing their shacks.
Q4. What are the nearby beaches of Tajpur?
Ans4. Some beaches like Udaipur, Talsari, Junput, and Mandarmani are close to Tajpur sea beach. You can pay a visit to Chandaneshwar temple from Digha. And this spot is popular for an ancient Shiv Mandir. An annual fair is being held here during the month of Chaitra around the temple.
Q5. How many days would you need to visit Tajpur?
Ans 5. The Tajpur trip will need at least 1-2 days to complete a mesmerizing trip. Moreover, if you plan for a place perfect for 3-4 days, then Tajpur Sea Beach is a perfect place to visit. The route planning should be like this- Digha-Chandpur-Tajpur-Mandarmani.
In Nutshell
The pristine and tranquil environment at Tajpur is responsible solely for making the tourist place a worthy weekend getaway among tourists. The crescent-shaped beach also endows various photographers with a panoramic sea view. Tajpur sea beach is known for its crescent shape, where people come to spend some quality time away from their busy, chaotic life.
Travelers can book any of the budgetary Tajpur hotels within their financial reach. If you want to spend some time in solitude, Tajpur sea beach is one of the best places to resort. It is a perfect place to resort, relax and rejuvenate the tired soul in all of us.
If you want to check the clients' reviews, you can go through the various testimonials by travelers to form a sketch of the place you plan to travel to soon.
What makes you wait any longer? The tranquil shore of Tajpur sea beach is on your checklist for your next trip.