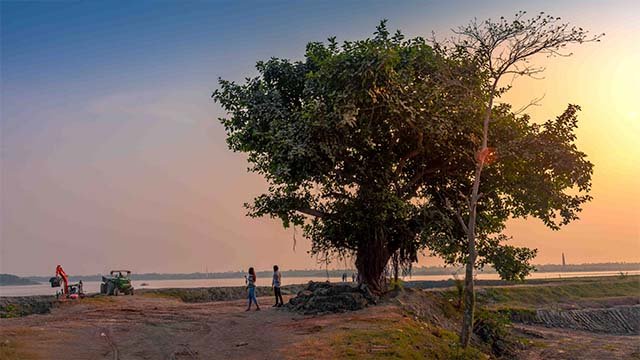 Taki is a small hamlet. It is operated under the Hasnabad police station. It is counted under the police station of Basirhat in North 24 Parganas district in West Bengal. It is situated on the banks of the Ichamati River. Taki tourist spots are some of the popular weekend places to visit near Kolkata. These places are located at a distance of 75-80 KM from Kolkata. The place is a popular picnic spot near Kolkata. These places give positive vibes when you visit them.
Why are Taki tourist spots so popular?
Besides the places to visit, Taki is also famous for many other things. There are a lot of travel spots around Taki. Some Taki tourist places are popular as picnic spots and for shooting serials and movies.
Situated on the banks of the Ichamati River, Taki is a place you should visit during the winter. Enjoying a lovely view of Bangladesh from the boundaries of Taki is a lifetime adventure. The boat ride here takes charge of Rs. 50/- per person on sharing basis with 20 people on one boat.
Which place in Taki is a historical Taki tourist spot?
Joramandir is a historical place in Taki which is 300 years old. It is a temple with historical importance. It is a small pond in front of the Mandir. You must book a toto from the accommodation spot to visit the temple. For all other Taki tourist spots, you must book a toto or a private vehicle to visit the Taki tourist places.
What is the history behind the place Taki?
Taki is full of rich history. It has several zamindar houses in the Taki Tourist spots. It is known for the sweets called Chanar Malpoa. Besides this, it is also home to significant historical landmarks that still exists during the rule of the Bristishers.
Taki Road is the station you need to get down to while visiting Taki. The most famous house of Zamindar was General Shankar Roy Chowdhury's ancestral house named Adi Bari. Moreover, shooting of many vintage films was held in Taki. Bishorjon is a place that took place in Taki.
Top Taki Tourist Spots That Need Special Mention In 2023
Taki is West Bengal's small town. It is located in the North 24 Parganas district in West Bengal. It is situated on the banks of the Ichamati River and is famous for its natural beauty, and also it is of historical significance. The country of Bangladesh looms in the distance as passengers sail down to Ichamati River. Together these spots provide a wonderful treat for tourists from around the world.
Here are some of Taki's top places of tourist attractions
Ichamati River: Ichamati River flows through Taki. It is a significant spot for tourist attractions. Visitors can enjoy a boat ride on the River. It takes in the scenic beauty of the surrounding landscape. The boat ride here costs Rs. 40/- per person. The capacity of the boat is 20 people in one boat.
Taki Rajbari: Taki Rajbari is a historical palace in Taki. It was once the local zamindars' residence. The palace is now in ruins but still attracts tourists interested in history and architecture. Apart from being a picnic spot, this place is now a popular place for shooting and the main attraction of the place.
Machranga Dweep: Machranga Dweep is another small island. It is one of the top Taki tourist spots in the middle of the Ichamati River. Visitors can reach the island by boat and enjoy a picnic or a river stroll. People from both lands of the borders hoist the national flags on boats carrying idols and meet the Icchamati at one point. The island was destroyed recently in the Amphan cyclone and thus went underwater.
Ramakrishna Math and Mission: The spiritual organization of Ramakrishna Math was founded by Swami Vivekananda. The organization has a branch in Taki, and travelers can attend spiritual discourses and participate in meditation sessions.
Baleswar Shiv Temple: Baleswar Shiv Temple is a famous Hindu temple in Taki. The temple is dedicated to Lord Shiva. And it is known for its beautiful architecture and intricate carvings. People in taki visit this Mandir whenever they can manage time amidst their household chores.
Jora Shiv Mandir: Jora Shib Mandir is a popular mandir in Taki. The temple is dedicated to Lord Shiva and is known for its unique architecture. The Mandir has excellent infrastructure, and it is believed that God answers prayers.
Roy Chowdhury Bari: This Zamindari House is famous for its style and history. The Roy Chowdhury Zamindar Bari is found by former Army general Shri Shankar Roy Chowdhury. It was his ancestral home. The house is surrounded by multiple temples and a Mancha situated beside the house. This particular place is now in ruins.
Kuleshwari Kali Bari: The Kali Bari is one of Taki's most famous religious places. It is believed that Devi Kali in the temple is active and fulfills the wish of her disciples. People say that they get positive vibes when they visit the place. The temple has historical significance and is among the best Taki tourist spots.
Taki Bazar: Taki Bazar is a local market but a part of the list of Taki tourist spots. Here visitors can shop for souvenirs and local handicrafts. The market is also known for its delicious street food. Overall, Taki is a charming little town that offers a glimpse into the rich history and culture of West Bengal. It is an ideal destination for a day trip or a weekend getaway from the central city of Kolkata.
Golpata Forest Taki: Golpata Forest in Taki is known as Mini Sundarban. It is famous for its canopy jungles, pathways, and clear lands. It is a highly recommended place for picnics and moving around. The only thing is that you will need to keep the ID proof along with you for safety purposes. BSF guards might ask for ID proof when you enter the forest.
Jora Mandir: Jora Mandir is 300 years old. There is a small pond in front of the temple. Thus you must book a toto from the hotel to visit the temple. It is said that visitors here prefer to offer their prayers to God and see them come true with a holy heart. This Mandir is a glimpse of the rich Zamindars who used to stay here in Taki in ancient times.
Amrapali Garden: Taki is rich in the forest reserve and cultural heritage. Amrapali Garden is part of this proud history and is among the list of Taki tourist spots. This is a mangrove forest where you can get rich and tasty mangoes. It is an ideal spot for picnics and garden parties. Sometimes people also hire the place for their wedding parties. The garden has some well-known medicinal plants too. It is maintained by the forest department.
Rajbari Ghat: Rajbari Ghat in Taki is a tourist attraction in Taki. It is rated by tourists for its natural beauty and the greenery around it. Some boats are mainly for tourists to take boat rides. It is situated on the beautiful; banks of River Ichamati in the land of the Zamindars. Taki has multiple interesting locations popular for sightseeing in and around Taki. It is highly maintained from time to time.
Chandraketugarh: Chandraketugarh is an archaeological place that is 2500 years old. It is situated near the River Bidyadhari River. It is situated at a distance of 35 KM. Historians believe the Chandraketugarh site and its surrounding areas could be of great interest. The area is known to ancient Greek and Roman writers as having a similar look. Travelers can enjoy lovely river views and picnics with family and friends.
Sanhati Park: Sanhati Park is located in Ashok Nagar along the Bongoan line. This place has many rides for kids and is considered a picnic spot ideal for visiting in the winter. The place is safe for a family rush, so tourists from surrounding areas gather here for a weekend tour. This park is spread over a large area. The ticket here is Rs. 10/- per head. It is very old and is still considered to be a great place indeed.
Puber Zamindari Bari: This place is located on Taki Road in West Bengal. It remains open from 9 AM to 5 PM in the evening. You can also check the pictures of the palace on Google. It is a historical place which is open from Monday to Sunday every week. Arranging a picnic in this Taki tourist spot will be a wise idea. Durga Puja here provides great memories to the travelers visiting during the festive season.
There are a lot of mesmerizing places you can visit during your trip to Taki. Some other names of the tourist attraction are mentioned here-
Taki Eco park.
Basirhat Bridge.
Andulpota Jhilmil Waterpark.
Taki Joramandir.
Hoglapata Jongal.
Ichamati Park.
Happy valley park.
Bada Pukur.
Andulpota Jhil.
Snake Garden.
Hanuman Mandir.
Metho Gaon.
Kakra Mirjapur.
Bongaon Bibhuti Bhusan Ghat.
BSF Training Camp.
Bisram Baganbari.
Snake Garden & Aquarium visit for family trips and games.
Please Note: You can visit Mayapur ISKCON Mandir near Krishnanagar. It is at a distance of 125 KM from Kolkata. Single day trip from Kolkata will be a hectic one. Hence, it is best to stay in Mayapur for a day or two to roam in the surroundings and then return.
What is the distance between Taki from Kolkata?
Taki is located at a distance of 75.8 KM from the central city of Kolkata. Moreover, you can visit Taki tourist spots and book any vehicle after you get down at the Taki stoppage or station. During the last day of the Durga Puja, passengers can see the idols of Mother Durga from both India and Bangladesh glide onto the boats to get immersed in the middle of the River. The scene seems to reap harmony between the two countries.
When is the right time to visit Taki?
Winters are the best time to visit Taki. But, then travelers can visit Taki throughout the year round. But it will be best if you plan to visit Taki tourist spots during September, October, November, and December.
During the Durga Puja and Dushhera is the best time to visit Taki. You can see the immersion of Idols from India and Bangladesh together on both banks of the Ichamati River. This is something great than just being a mesmerizing sight.
As winter sets in, the weather prepares for picnics and family outings. Taki is one of the best places to visit. Every time people do not prefer visiting crowded cities for weekend trips. Taki is one such place you can visit for a rural weekend vacation.
What to choose Hotels or Guest houses?
If you are confused about what to choose you must make sure that you shortlist some of the top names of the hotels and accommodations and then check which one suits your budget the best.
Although there are many guesthouses and hotels to spend the night in Taki, you must choose an affordable one. There are hotels, too, along the bank of the Ichamati River. Seeing the sunset here is one of the best moments travelers can ever experience on the banks of the Ichammati River.
The Taki tourist spots have hotels and accommodations for travelers within affordable budgets. Scenes from hotel balconies seem to be a more exciting event than everything.
A Handy Of Accommodations With Their Phone Numbers
Nripendra Guest House
Room Tariff: within Rs. 500/-.
Call: 03217-233328.
Bidhan Saikat Atithishala
Room Tariff: within Rs. 1050/-.
Call: 7602128877/ 9734173702.
Eco Tourism Guest House
Room Tariff: within Rs. 1050/-.
Call: 03217-233324.
Suhasini Guest House
Room Tariff: within Rs. 1250/-.
Call: 9330826779.
What to eat near Taki Tourist Spots?
You will get to see local and freshwater fishes in multiple areas. This is one of the best food items to try in Taki. A local fish market supports the freshwater here. Malpoa is another food item that is a pretty popular food in Taki. Besides this, multiple Bengali dishes add spark to the food in Taki. You should not miss out on trying these whenever you are in Taki.
Dine In With Cheap Rates!
The rate of food here is cheap but tasty, so you can order the same and eat.
Fish Thali: 80/-.
Chicken Thali: 100/-.
Veg Thali: 50/-.
Taki Tour Itinerary: Plan your journey in just 2 days.
If you are new to this place, you must know where to start and how you can cover up the tour itinerary. The distance of the Taki tourist spots is between 75.3Km to 80.4 KM from Kolkata. So, here is how you can plan your journey within two days to have a perfect weekend getaway in Taki.
Day 1: Reaching Taki & Having A Boat Ride In The Ichammati River
Choose a convenient mode of transportation to Taki. But make sure you start early in the morning, or you might lose time to see the Taki tourist spots. If you are traveling from Kolkata (Sealdah or Esplanade), it will be easy and save you time to reach Taki.
Once you reach the hotel, freshen up and have lunch at or in a nearby local restaurant on River Ichammati. In the evening, have a boat ride in the River where you can see a glimpse of Bangladesh's borders from the boat.
Once you are done, you can return to the River's banks, sit and relax with your friends and family, and have an incredible sunset view. It is indeed a magical experience to see the sun go down the horizon. The boat ride can be booked for small groups or a solo ride. The boat driver will take the boat to the middle of the River, where you can see the Bangladesh tourists who will wave at you.
You should return to the hotel during the night, take your dinner here and rest in your room. The following day the journey should start in the early morning. In the evening, you can visit the 200+ years old Durga temple while returning to your lodging. Ages ago, it was the mandir built under the instructions of the local Raja. But now, it is closed, and you can no longer enter the temple.
Day 2: Troll Around Taki Tourist Spots & Dine In Local Food Stores
The next day should start early morning and prepare for the second day's tour journey. After breakfast, tourists can visit the local fish market to see the varieties of fish here. You can see multiple lobsters, a giant fish collection, and other sea creatures.
At almost 10 AM, head towards the tourist spots and have a great time together. It will be best to rent a Toto and tour the tourist spots. The driver will take you to the tourist spots one by one. You can also see the places that were taken to shoot the films. It is also a part of the sightseeing spots.
After a full day's trip to the Taki tourist places, you will return to the hotel and have dinner. The next day you can leave for your home at your convenience. It is indeed a fantastic weekend destination near Kolkata.
Day 3: End of the Trip to Taki tourist Spots
The journey to Taki ends here, and the easiest way will be to choose the rail route from Taki Road to Sealdah railways station. From here you can take the connecting train to your home if any. Besides this, you can also get down at Dum Dum station and board the metro to reach faster. Remember to add this tourist place to your travel list immediately.
How to Reach Taki Tourist Spots In West Bengal?
There are four ways to reach Taki tourist places in West Bengal. They are as follows:
By Air: The nearest airport is Dum Dum Airport. You will have to travel from Dum Dum after that to reach Taki. You can take the rail route from Dum Dum station or book a private taxi or car from outside the Dum Dum airport, which will take you directly to Taki Road. From here, you will reach your hotel directly. You can ask the driver to take you back to the airport after your trip.
By Bus: There are a lot of buses that operate between Taki and Kolkata. These buses open from Esplanade or Shyambazar. It will take 2 to 3 hours by bus. If you want to take public transport, the train journey is safer, less tiring and cheaper than any other. Hence, people living in the surrounding prefer the bus as it is a one-way trip.
By Rail: The best route to Taki by train is to take the Hasnabad Local from Sealdah. From there, you can rent a Toto to reach your pre-booked hotel or accommodation that you book. Taki Road Railway Station is the nearest Railway Station. Then you can take a toto to head towards the hotel. However, this is the best way to travel to Taki.
By Road: Suppose you are planning your trip from Kolkata; then you can take the Kolkata Malancha Road beside the Science City and the Malancha Basirhat Highway. Booking a private car or vehicle to reach the place immediately. Another route to take Taki is through the Barasat Chapadali Road. On the way, you must cross the Berachampa and Basirhat road if you start your trip from Dumdum Kolkata.
Final Words
The town of Taki is situated on the border of India and Bangladesh. It is on the banks of the Ichammati River. It is a part of the North 24 Parganas in West Bengal. If you are planning a perfect weekend getaway, do not miss out on adding Taki tourist spots to your list. The boat ride fare at Ichamati River starts from Rs. 40/- per person.
Please share your experience and share with us your personal experience where you can guide others about Taki tourism.
Plan your journey today.