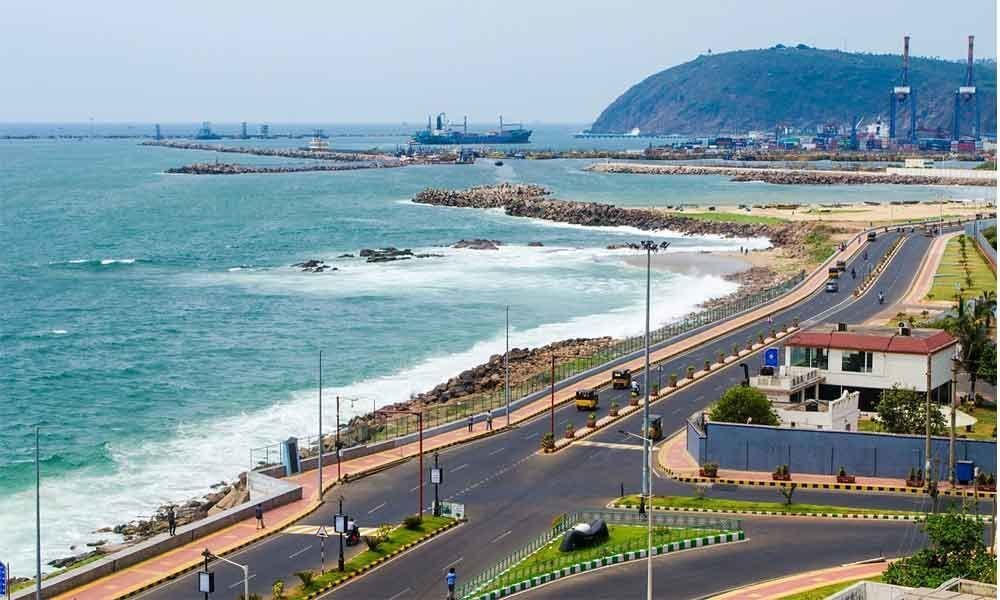 Vizag City A Must-See Place In The Bucket List
Vizag City is also known as Visakhapatnam. It is a city in the state of Andhra Pradesh. It is an industrial hub that brings in more opportunities for betterment. Vizag is a popular destination that has magnificent beaches which have histories to support them.
Vizag port is renowned for being home to the oldest shipyard in India. There are a plethora of wonders that are manmade and hold natural spectacles here. This place is a must-see place where you simply cannot leave out visiting on your trip to the city.
Which food is famous in Vizag City?
Chutneys and Pickles are the two food items that make Vizag City so famous. Vizag City has multiple delicacies and food options. Moreover, South Indian dishes are also the specialties eaten here for ages here. This makes Vizag City a signature perfect place to eat and dine with ease. The prices of the food are also affordable, which makes it so cool for everyone.
The cuisine of the food is a perfect blend of South and North food. Muri mixture, Punugulu, Dosa, Idli, Bajji, Liver Kebab, Masala Batani, and Tomato Bajji are some of the top-class cuisines which make Vizag a worthy place to taste the food.
Vizag is also the origin city for a few famous five dishes.
Bongulo Chicken.
Madugula Halwa.
Chepala Pulusu.
Pela Vadiyalu.
Teepi Avakaya.
Top Names Of The Restaurants In The Vizag City
Cascades Restaurant.
Kava Grill & Lounge.
Satyam Restaurant.
Absolute Barbecues Vizag.
Vasena Poli.
Varun's Eat Restaurant.
Daspalla.
The Grand Central Hotel.
The Green Park.
Which is the best time for the Vizag Tour?
October to March are the best months for a soothing Vizag Tour. During these months, the weather here in this region is very pleasing and also highly comfortable. The winter months are also perfect to visit as the weather remains fairly pleasant. In addition to this, the temperature ranges from 18 degree Celsius to 32' C. rainfall during the months of August to September gives pleasant weather. Thus it is the right time to visit Vizag City, a city of destiny. It is a port city.
Do you think a day's tour in Araku Valley is enough?
The views of Vizag City are highly appreciated by tourists. Moreover, the entire route from Vizag to Araku Valley is just too good and it gives us a glimpse of South India and its culture from one end to the other. Besides this, there are certain nature lovers who would be mesmerized by the iconic natural landscape and the sea that supports the city in all its daily and industrial purposes.
Vizag to Araku Valley: 1-Day Tour Itinerary List
Imagine yourself standing at a height of 4350 feet above sea level. There is a postcard-perfect viewpoint that gives sight of some of the best iconic and incredible scenery. Here is a list of the one-day Itinerary of the Araku Valley Local Sightseeing Tour that travelers can take pleasure in from Visakhapatnam.
Places you must see on the way are as follows:
Padmapuram Gardens. (40 minutes)
Tribal Museum. (30 minutes)
Galikonda View Point. (20 minutes)
Ananthagiri Coffee Plantations. (30 minutes)
Borra Caves. (60 minutes)
Katiki Waterfalls. (60 minutes)
Here is a top list of package inclusions-
Pick and drop from STAY/HOTEL.
Choose a Cab for Araku sightseeing from VIZAG as per the above itinerary.
Charges for the Car are inclusive of the parking charges.
Tollgate charges if the driver asks for it.
What Are The Top Places To Explore On Vizag City Tour?
Kailashgiri:
Kailasagiri is a beautiful place to visit in Visakhapatnam. The hilltop park is highly popular and is 40 feet tall in height. The shrine of Lord Shiva and Parvati is here which offers a panoramic view of the sea from such a great height.
Sub Marine Museum:
Sub Marine Museum is another attraction in this place. The INS Kurusara was rightly developed in the museum which was fabricated in 1969. After serving in the navy for over 32 years, this submarine was turned into a museum. The place showcases the lives of many martyrs and warriors.
Visakha Museum:
Visakha Museum is a historic treasure house of Vizag City. It is located at the Old Dutch Bungalow on RK Beach. Here you will get to see some of the iconic collections of photographs that depicted the post-independence era.
Simhachalam Mandir:
Simhachalam Shrine is an abode of the Hindu temple. This temple is dedicated to Lord Narasimha. Simhachalam Temple exhibits a mix of Dravidian and Orissan styles of architecture. The temple has Shri Varahalaxmi Narasimha Swamy as one of the presiding deities.
RK Beach:
RK Beach is one of the popular beach parks in the city of Visakhapatnam. This place attracts a huge crowd of tourists who come to visit here with their families and friends for a holiday or a vacation.
Padmapuram Gardens:
This place is a famous botanical garden that people prefer visiting as here they will find a wide collection of plants and trees that are alive for a very long time. The distance of this garden is almost 3.2 KM from Araku Valley Bus Stop. It takes almost 20 to 30 minutes to reach here.
Tribal Museum:
This is another sparkling delight that people love to see whenever they are on a sightseeing trip to Vizag City. It takes almost 30 minutes to reach the place. The best time to visit the place is in the winter. Here there are all the important items related to the tribal community, traditional art, handicrafts, ornaments and textiles, indigenous tribes, and many more.
Galikonda View Point:
This point is situated at a distance of 20 minutes from the Araku Bus stop. Although this is a small viewpoint, tourists do not miss out on visiting this place. From here you will not even have good views of the whole hills which is the 2nd highest peak in the Eastern Ghat. Moreover, it is the uppermost point of Vizag City which is at a height of 4320 feet.
Ananthagiri Coffee Plantations:
This place is at a distance of 30 minutes from Araku valley. Moreover, the area is fully covered with miles and miles of coffee plantations that cover the place widely. The mesmerizing hills of Ananthagiri are seen as you enter Araku Valley. It is considered to be a gem studded in the hills of Vizag City.
Borra Caves:
This cave is a popular limestone cave in Andhra Pradesh. It is made up of limestone. And, it is located at a distance of 60 minutes from the Araku Valley. It is believed that this cave was formed some 150 million years ago with the help of water and stalagmites in the region. These awesome caves have now turned into tourist spots and remarkable geographical locations.
Katiki Waterfalls:
Katiki Waterfalls is located at a distance of 25 minutes from Araku valley in Vizag. There are only a few transports that are quite comfortable to reach the waterfalls. The best time to visit the waterfalls is the months of September to February. The area is covered by lush green trees all over. This makes the weather cool and dry throughout the year. It is due to this reason only that climbing up the waterfall is pleasant.
Matsyadarshini Aquarium:
Matsyadarshini Aquarium is set up by the Municipal Corporation of Visakhapatnam. It was established in 1994. Matsyadarshini Aquarium is an AC aquarium that showcases rare species of freshwater. There is a huge collection of marine fish. Here you can capture beautiful photographs. Tourists can spend enough time inside the aquarium by observing the movements of Butterfly Fish, Stone Fish, Lionfish, Surgeon Major, and Red Squirrel Fish.
Ross Hill Church:
The next important destination to explore in Visakhapatnam. This is called Ross Hill Church. It is a famous religious landmark that adorns beautiful architecture with the most serene vibes to make you feel happy with the best positive from within. There is no entry fee for visiting Ross Hill Church in Visakhapatnam. The time of the church is 9 AM to 6 PM every day.
VUDA Park:
VUDA Park is one of the most well-maintained and attractive places for tourist attractions. It is in Vizag and is spread over an area of 39 acres. It has beautiful lawns and a variety of species of flower plants with 2500 shady trees. VUDA park calls nature lovers in huge numbers. Travelers can enjoy having a great tour of the place as it is meant for a fresh family outing. In addition to this, your kids will enjoy it a lot here. There are activities like boating, horse and camel rides, and swimming facilities.
Bojjannakonda:
Bojjannakonda is formed from a 4th-century clutter of 6-rock cut caves. This place elaborates on the idols of Lord Buddha where Buddhists are seen to come and pray. Most of the monks and travelers come to this place to mediate as well as unwind their minds from the chaos of life. Travelers from all over the country come to spot and witness the sparkling atmosphere in this place.
Please Note:
You can book a taxi or a private cab which will take you on a full coverage tour around Vizag City. Confirmation of the booking and the driver's phone number will be received only when the final booking is done. You can also avail of the option of cancellation up to 24 hours before the journey begins. You are subject to a full refund of the booking price.
Which Coffee is grown In the Ananthagiri Coffee Farms?
Arabica Coffee is grown in the Ananthagiri Hills. It is one of the most famous and largest coffee-growing regions in Andhra Pradesh. This aromatic coffee is not only grown here but also exported to all other places from Araku valley only. You can check Ananthagiri Hills Photos of Coffee Plantations on Google.
How many stairs are there in Borra caves?
There are approximately 415 steps that one will have to cross while entering the Borra caves. It is a coastal city of Andhra Pradesh that gets tourists from all over the globe. The distance of these caves is 125.6 KM from Visakhapatnam. Moreover, Borra caves are studded gems that are studded in the crown of the Ananthagiri Hills of Araku valley.
How is Vizag City vital from the viewpoint of an industry?
Vizag City is known as the City of Destiny. It is blooming as one of the industrial cities on the eastern coast of India. Currently, Vizag is ranked as one of the fastest-developing cities in the country. Moreover, the most conspicuous landmark is the Dolphin's Nose. This is a rock which is a promontory jutting out into the sea.
In addition to this, Vizag City has a locational benefit. It is situated on the eastern coast which gives easy access to Southeast Asia. The strategic position of Visakhapatnam or Vizag is on the Bay of Bengal. It is therefore regarded as the Eastern Gateway for India. Moreover, there are huge sources of minerals in this part of the country.
What Are The Other Places Of Attraction In Vizag Beaches?
Vizag City is also known for its beaches. Moreover, there are ways in which one can easily boast of numerous beaches that are scenic and uncrowded. There are a few virgin beaches where swimming can be dangerous. It spreads over miles. There is a beach named Yarada which is visited only by the locals. Except for the occasional RTC bus, there is hardly any kind of transport in this place.
Yarada Beach:
Yarada Beach is perceived as one of the private beaches that are actually not so popular among tourists. Mainly local people visit the place. The location of this beach is just behind the Dolphin Nose. in order to go to this beach, the bus facility is always running from Scindia junction. Moreover, you can hire a cab to go there. The overview of this beach is Vizag City from the top of the Dolphin's Nose which is memorable. The journey from Scindia to the topmost part of the Dolphin Nose is really enjoyable.
Rushikonda Beach:
Situated at a distance of 11.2 KM away from the city, Rushikonda beach is a popular tourist spot that every locals and tourists visit. There are RIP currents on this beach and many people have lost their lives here. Thus it is advised not to swim or play on the beach. AP Tourism Development Corporation is looking after this beach. It was given the status of a Blue Flag certification in the year 2020.
Ramakrishna Beach:
RK Beach or Ramkrishna Beach is quite popular among people. You can see tourists and locals hanging out with friends and families. Here people come dressed in their best clothes so that they can take a plunge in the water. Here also there are RIP currents that are dangerous to man. Yet after this people take complete pleasure in this beach but in a much safer manner. Just near the beach, you will find good beaches, open-air restaurants, beautiful parks, museums, and many other marine activities.
Bhimili Beach:
Bhimili Beach is situated at a distance of 26 KM from the main city. It used to be a small village in the previous times but now it has transformed into a beach for tourist attractions. The name of the village was Bheemunipatnam. Moreover, the beach is in the sense that one can find the locals hanging out during the hot summers. It is relatively less hot in the winter. Local people come to this beach even during the weekends and holidays. In this village, tourists have spotted remains of Portuguese churches, Dutch cemeteries as well as the Buddhist Monastery.
Kambalakonda Wildlife Sanctuary:
This is a sanctuary that features a rare species of wild animals and birds. It offers a delightful experience to all tourists seeking some high-voltage drama on the visit to Vizag City for 3 days. Here the area is spread and sprawled over an area of 7147 hectares. The sanctuary is a great spot for bird watchers. Animals like barking deer, panthers, jackals, spotted deer, cobras, leopards, quails, and also Indian pangolin under one roof. The flora of Grewia Tiliaefolia, Tectona Grandis, and Abrus precatorius are also present in this sanctuary.
Dolphin's Nose Vizag City:
Dolphin's Nose Vizag City is another place of attraction for visitors. It is a hidden gem which is located in the southern part of the tourist places in Vizag. The place is so cool that it offers a treat to the eyes. Moreover, the place is known for its breathtaking landscapes, its lush greenery, and the harbour of the city. Positioned at a height of almost 358 meters above sea level, Dolphin's Nose Vizag City. It boasts an amazing location with a cool as well as breezy atmosphere.
Dargah Konda Hill:
Dargah Konda Hill is a beautiful place with the most beautiful landscape view. For those who do not believe in the division of religion, Dargah Konda Hill is one of the right places to visit. The place is situated on the top of the hill which is sure to leave you speechless on your visit. It is a holy place that is divine.
Visakhapatnam Zoo:
Visakhapatnam Zoo is one of the top places in the wildlife sanctuary. It covers an area of 27 acres which was opened to the public in the year 1977. The other name for this zoo is Gandhi Zoological Park. It is home to a wide variety of butterflies, and animals as well as a variety of moths.
Other Places of Attraction are- Vuda Park, Ramakrishna beach, Victory at Sea War Memorial, and many other remarkable places. There are no entry fees for many tourist spots in Vizag.
What are the travel tips to visit Vizag or Vishakapatnam?
Always prefer wearing comfortable clothes and shoes while on tour as you might have to walk a few more steps.

Make sure you keep your personal belongings ready with you as you might need anything at the same time.

Use the locker and the storage facility ready with you as you might need them in your journey so that you don't lose them anyhow.

For any kind of information or travel-related inquiries, it is best to contact any experienced travel agent who will help in all steps.
Check Google Maps for getting the actual view of the location and find the most perfect place in Vizag City and its tourist spots.
What is the entry fee to visit Matsyadarshini Aquarium?
The entry fee at Matsyadarshini Aquarium is Rs. 30/- per person for adults. Rs. 20/- per person for kids. It is open for its visitors from 9 AM to 9 PM on all days of the week. If you are carrying your camera you will need to pay Rs. 20/- extra on the charges. The place gives out a relaxing, rejuvenating, and soothing sensation to your senses in a surreal setting.
Are the beaches in Vizag lovely?
The beaches in Vizag are lovely. There are water sporting adventures and activities that are taken care of. In addition to this, people experience diving, marine sports, sitting in beach cafes, and eating at seaside restaurants. The area is traditionally known for its quite conservative ambience. The beaches along the hills are beautiful. Thus the place attracts people and thus interests the average tourist to enjoy a calm vacation.
Which is the largest steel plant in India situated?
Built-in the year 1992, Rashtriya Ispat Nigam Ltd is the largest steel plant in India. Visakhapatnam enjoys the pride of owning this place. It is one of the deepest landlocked and protected ports which is considered to be also a shipbuilding centre. Transport is essential in modern society. It plays a major role in every sphere of the economy.
Vizag Steel plant is one of the important shipbuilding industries in Visakhapatnam. This integrated steel plant produces a superior quality of steel for both domestic and international markets. It is also noted that the Steel Plant is considered to be the largest shipyard in India. It fetches the iron and steel for making vessels from the steel plant.
The steel plant also handles all the southern markets of India. This fetches iron and steel for making vessels from the steel plant. VSP plans to use natural gas from the Krishna-Godavari basin in the future to reduce the dependence on imported coal. Today it is the second largest steel plant that is integrated with an annual capacity of 4 million tonnes of liquid steel.
What are the Popular Vizag Tour packages In India?
1-Day Vizag Tour packages.
Vizag City Tour packages.
Vizag Darshan Packages.
Vizag Local Sightseeing packages.
1 Night & 2 Days Packages.
2 Nights & 3 days packages.
3 Nights & 4 days packages.
4 Nights & 5 days packages.
The gem of South India, Visakhapatnam offers the ultimate blend of culture along with modern heritage. The wonderful view of Visakhapatnam invites holidaymakers to enjoy a comfortable and truly promising stay. Whether you are traveling alone or in a group, Visakhapatnam is indeed a worthy place on your Vizag Tour.
Pro Tip: Do not forget to indulge in the subtle aroma of coffee. It is widely known for its exquisite coffee. It has a variety of coffee plantations all around. An unexplored hill station nestled in the heart of Andhra Pradesh is the Araku Valley.
Amusement & Theme Parks In Vizag Tourist
MGM Selvee Water World.
A Square Go Karting.
Livein Adventures.
HappyPola Indoor Amusement Park.
Vizag Water World.
Other activities to do in Vizag City are-
Ride a Ropeway.
Go out for an evening walk to Ramakrishna beach.
Visiting the intricately-crafted scriptures of Lord Shiva and Goddess Parvati.
Go out fishing
Undertake adventure sports at Rushikonda Beach.
Is Vizag supporting the IT industry?
Yes, the IT industry is growing rapidly in Vizag City. The economic status of Vizag heavily relies on the export of seafood. The region is growing immensely and is thus renowned for pharma companies. Companies like Mylan, Aurobindo Pharma, Hospira, and Eisai are some of the top brands in the pharma industry. Boasting of beaches, all of them are breathtaking and give a realistic feel. The wildlife sanctuaries are also one of the best places to enjoy with your loved ones.
What Are The Places Of Shopping Attractions?
Lepakshi Handicrafts Emporium.
SR Shopping Mall.
Nehru Bazar.
Kurupam Market.
Old Book Market.
Daba Gardens.
CMR Shopping Mall.
An Old History of Vizag City or Vishakapatnam
It was back in the 4th century when Vishakapatnam finds mention however its actual history began during the 6th century. This place was a part of the Kalinga region. The archaeological evidence suggests that the structure of the present city is Vizag in the 11th century and 12th centuries.
Finally, the place came under British rule. Thus in the 18th century, Europeans had complete control of trade operations in the city. In 1804, the city was under the control of the East India Company. With its rich heritage, Vizag has a vibrant culture. And, therefore it celebrates different festivals with the best colourful rituals and grand feats.
Apart from this, Vizag is popular for arts and crafts. It is famous for its arts and crafts. The popular folk dance, Ahimsa is performed by the hill tribe. Moreover, the majority of people can speak Telugu and is thus renowned for its delicious cuisines.
How To Reach Vizag City or Vishakapatnam?
By Airways:
The best flights run from all destinations to Vizag Airport. The city is connected with Delhi, Mumbai, Cochin, Chennai, Kolkata, Hyderabad, and other parts of the nation. For more information, you will need to collect information regarding the flights, routes, and timings.
By Railways:
The major rail station in Vizag is the Chennai Central-Howrah Station route. Major trains from Hyderabad, Kolkata, Mumbai, Delhi, Bengaluru, and Mumbai are directly connected to this place. These trains are running at regular intervals all around the country.
By Roadways:
The road connectivity in Visakhapatnam is well-maintained, with an easy commute to the city of Vizag. The state government also operates an interstate bus service for all passengers who are traveling all across the cities. To check the timings and the availability of the trains you will need to check with the IRCTC or also call on the customer care number.
What is the climate of the Vizag City Tour?
The climate of Vizag City is wet, tropical, and dry. Vizag experiences maximum temperatures in May and June. The place receives rainfall from the northeast and southwest monsoon winds. Vizag City does not experience chilly winters. In addition to this, the minimum temperature never drops below 18 degrees.
How to travel all around Visakhapatnam?
Vizag City has multiple options for tourists as well as locals within the city. There are buses, taxis, and auto rickshaws are some of the popular choices to reach the destination without even facing any kind of inconvenience. Soon the city will have a connected metro system for making communication easier. Vizag has both high-end hotels with affordable lodges.
Final Words
To summarize, Vizag City is a major industrial centre on the east coast of India with excellent Ports. This is a bustling city that holds a population of almost 2.3 million. Vizag City is a metropolitan city that has peaceful industrial relations. Moreover, there is a logistics hub that is well connected to the city by rail, sea, and road helping businesses to grow properly.
Visakhapatnam Railway Station is a junction and also a divisional headquarters. It is on Chennai-Kolkata Gauge broad line and the full track is completely electrified. So, if you want to spend some good times with your loved ones and have a fruitful vacation, visit Vizag City.
So, what are you waiting for? It is time to book tickets today at the cheapest prices from any of the reliable tourist guides.